We stay home, we eat healthy and nutritionally balanced. The best idea comes from Evni's Kitchen with the signature of Ktima Dimosthenous!!
Now, you have the opportunity to receive fresh homemade food at your door, with excellent quality ingredients, ready-to-cook or just to heat them up!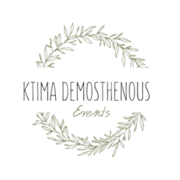 Welcome to Ktima Demosthenous. Situated at an exceptionally beautiful landscape in Parekklisia area, Ktima Demosthenous is a new venue offering unique moments for your special event.
In an elegant environment surrounded by trees and flowers, a pond and a theatre, Ktima Demosthenous offers a memorable experience for your Parties, Christening, Engagement, Wedding Reception, Gala Dinners, Corporate Dinners and Cultural Events.
With an experience over 20 years in catering, Ktima Dimosthenous and its team of skilled professionals maintain the highest standards of taste, service and punctuality. All functions are tailor-made to meet clients' expectations and make the event truly memorable. Our food and beverage team has created special menus, for both cocktail receptions and buffet dinners, to satisfy you and your guests.
Ktima Demosthenous offers outside catering services too. Feel free to contact us for more information.